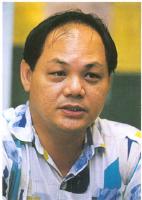 THEY may not have produced any national taekwondo exponents yet, but with their youth development plans in full swing this year, Bluewave Taekwondo (Singapore) may well be the name to watch in the future.

In fact, the future of Singapore taekwondo looks bright with clubs like Bidewave looking to step up their youth development programmes in view of producing some top quality taekwondo exponents of national calibre.

Despite coming under the wing of Singapore Taekwondo Federation (STF) just six years ago, the ever-growing Bluewave boasts 14 sub-branches at various Community Clubs (CC), Residents' Committees (RC) and schools.

With more than 400 members, Bluewave conducts taekwondo training from Mondays to Saturdays at its respective branches. What sets them apart from other clubs is the introduction of their 'Star' team.

According to Mr Philip Choo, Bluewave's Senior Chief Instructor, the 'Star' team was set up in 1999 and it consists of the best taekwondo exponents from the sub-branches who have the potential to make it at the highest level. He said, "We have more than 60 members in the 'Star' team, with the youngest just six years old. These youngsters are groomed for the national team and their training is more specialised and intense."

Other than the regular training at their respective branches, 'Star'team members have centralised training every week. Mr Lee Kwang Peng, the club's Programme Coordinator said: "We also intend to have an annual 'in-carnp training' where for a week or so, the members' activities will all be carried out in a taekwondo environment."
In the pipeline are plans to organise regular friendly competitions against regional taekwondo clubs. There are also plans to send the exponents for training stints or exchange programmes to Korea. The 'Star' team members will need this exposure at a young age to progress further, as such valuable experiences can never be obtained in training.

Looking at the promising progress and enthusiasm shown by Bluewave's taekwondo exponents, it will not be long before one of them starts earning national honours.